Local Yolks are producers and packers of Free Range and Farm Fresh eggs.
Here at Local Yolks we have ISA Shaver Brown Hens which are all fed a complete diet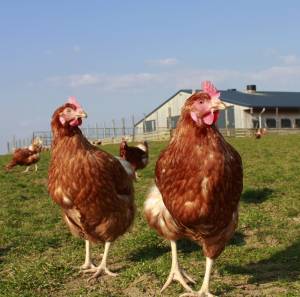 based on our very own home-grown wheat.  We are conscious of keeping food miles low and believe consumers want to purchase food that has been produced locally and is of the highest standard, we believe our eggs do just this!
Our farm operates to very high standards of hygiene and welfare standards, and our hens are subject to a strict salmonella monitoring and vaccination programme. Our FreeRange hens are RSPCA Freedom Food accredited, which means we have regular inspections to ensure the hens are all kept to strict RSPCA welfare standards (RSPCA Freedom Food).  Local Yolks Free Range eggs are also produced to the British Lion Quality Code of Practice regulated by the British Egg Industry Council (BEIC).
Because we want our customers to have total confidence in the origin of their eggs, every egg is stamped with a unique code before it leaves the farm which guarantees it is a genuine Local Yolks Egg.
Our eggs are available in a range of sizes (Small, Medium, Large and Extra Large) and are supplied on 30-egg trays for catering use and in eye-catching pre-packs for retail sale.
All our eggs are collected and packed daily using a state-of-the-art automated packing machine to ensure our eggs are delivered to customers at an unbeatable speed but to the highest of quality.  This ensures the freshest eggs are available to be sold on by customers to their respective customers.
Just a few of our happy customers…
"Local Yolks have supplied our eggs since we started up three years ago, always good quality & great service".  Simply Desserts. 
"Local Yolks have been our local egg suppliers for a decade now.  Great to have a local supplier with good service & great product".  The Red Hart Inn, Blaisdon
"Local Yolks eggs supply all three of our shops, excellent quality, local eggs with a great customer service".  Farmhouse Deli, Cheltenham